Spitting in the face of Hurricane Bill, I drove towards the storm, eastward, with two goals in mind:
1. Get myself to Belfast Mini Mills in Belfast, PEI (near the Wood Island Ferry)

2. See Province House in Charlottetown. I could not go to PEI and not see the birthplace of Canada!

Of course, since this is me, I did make a little detour on the way to stop by the PEI Preserve Company, even with the dire (but slowly growing less dire) weather predictions.
And was well rewarded with a pretty view:

Cute, no? (yes, that is a fake bagpiper) Such a pretty place, and so close to everyWHERE:
I must say, even with the high cost of some of those preserves, jams, and jellies, they are so worth it. I picked up some maple syrup, cloudberry preserves (yuuuuuuuum), and currant preserves, then was back on the road, east-bound.
Rain pounded my windshield on and off as I made my way towards Charlottetown, tapering to a drizzle as I left the Cavendish area, and only threatening rain while I drove through and past the city.

I liked the drive out to Belfast-- there were so many places that I wanted to stop (and it's a SHAME that Bill was breathing down my neck, else I would have taken a detour to the lighthouse or would have stopped at the historic sites along the way! They're on my list for my next visit.) Unfortunately, after all of that driving... the mill was closed, most likely because of the storm. (Note to self-- next time, call ahead!) So, back to Charlottetown I drove...
Province House... the birthplace of Canada, and the seat of the PEI provincial government. They had a great presentation on the history of Canada and then we were allowed to walk around inside.

In this room, an idea was born. An idea that eventually grew into a country consisting of 13 provinces and territories (yes, I learned about Nunavut that morning. Yes, I know that's kind-of sad that I didn't know about Nunavut before. But then again, I'm not Canadian...), into our great neighbor to the north. As a Philly-area girl, I appreciate the significance of this place.
After the Province house, I braved the threatening stormy skies and walked over to some of the shops that had been closed the night before. In Northern Watters Knitwear, I made up for missing out on the Belfast Mini Mills by heading straight to their yarn section. The Island shawl that I wanted to make needed some yarn and I found this beautiful violet-grey wool yarn made on PEI (at Belfast Mini Mills), along with two types of Bison laceweight yarn. Yes, BISON. Bison. Soft and warm and pretty. I can't wait to knit with that stuff.
After a few more stores, I couldn't deny that my reprieve from the rain was up... the sky had opened up again and, umbrella keeping me remotely dry, I hurried to the car and started driving west towards the Confederation Bridge and New Brunswick.
Even with warnings that the bridge might close because of high winds, I decided to make a detour slightly south to Victoria-by-the-Sea and a small tea house to treat myself to tea/lunch.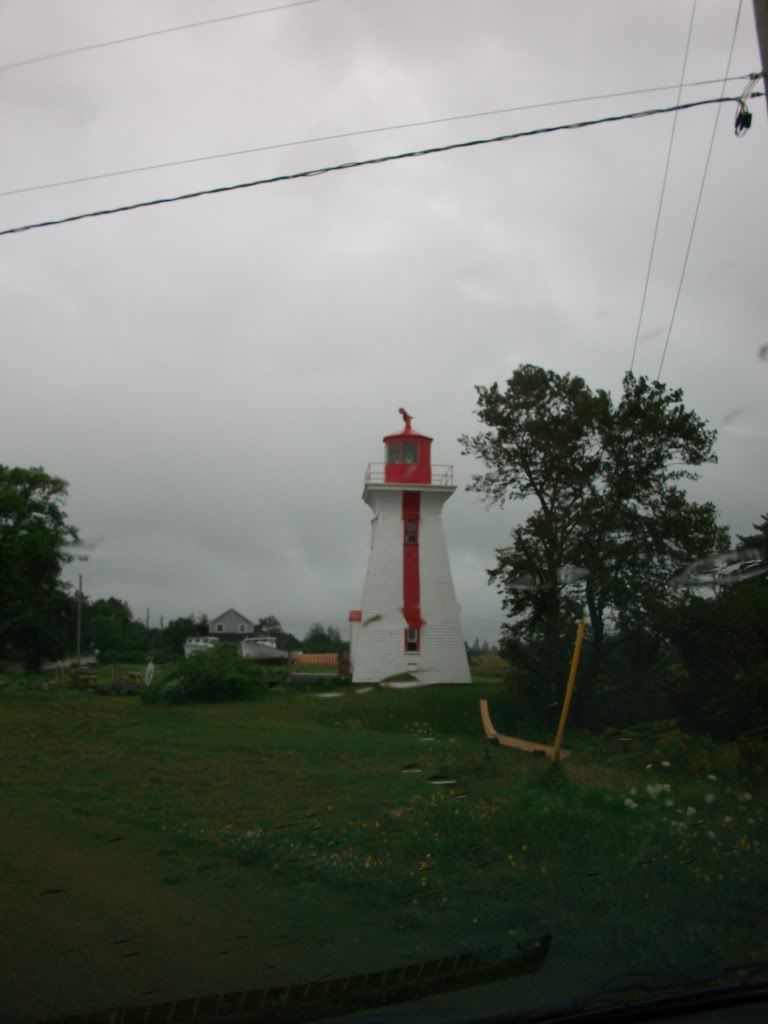 (the one lighthouse that I got to see... sigh)

At the teahouse, I treated myself to tea for one, with all of the sundry sandwiches and sweets, including a scone with (insert dreamy sigh here:) clotted cream (bigger sigh.) Forget love, just give me clotted cream. I'll be happy.
Next up were the shops by the confederation bridge-- I didn't want to leave the island early, but my bravado had worn thin. I figured that I could at -least- keep an eye on the winds and leave if they picked up enough to threaten bridge closure. (Turns out that I didn't need to worry... they never did get high enough! What a shame, becuase I could have easily taken time to go to Lower Bedeque and Summerside from where I was.)
I did get a nice picture of the flags in that dreaded wind: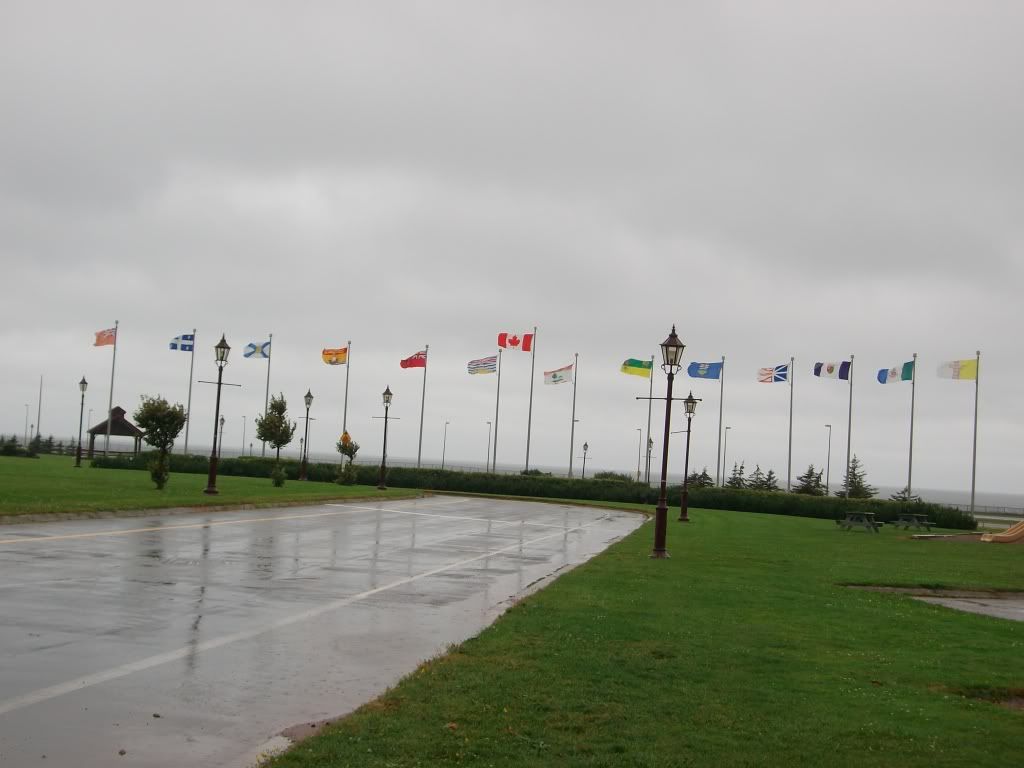 Some more Cows ice cream and a bowlful of mussels later, I had tarried enough. Reluctantly, I paid my toll and waved goodbye to the gentle island.
(Do NOT try this at home. Yes, I was driving and taking the picture one-handed. I also have to disclose that I wasn't looking at the camera and that there were at least 10 really bad, blurry shots to get this one picture.)
Safe on the mainland and no longer mercy to the whim of a storm, I stopped in the New Brunswick tourist rest stop immediately after the bridge to use the rest room and to try and get some shots of the storm-tossed waters and the bridge, as well. The rest stop itself is connected to an environmental centre and is entirely eco-friendly. Composting toilets, rainwater faucets and all. I and a few hearty others braved the wind and rain to take the short boardwalk out to a bridge observation point. This is one of many shots I have of the storm's effects this far west.
(do you see the faintest hint of PEI in the distance?)
Then, a quick drive back to Moncton and the hotel airport...
(yes, that is a moose crossing sign. No, I didn't see any moose)

I ate my last Tim Horton's that evening, watched "So You Think You Can Dance: Canada" and was back to the US the next morning.
I loved this trip, this island, the people, and the experiences. Four days was certainly not enough and I dream of spending a lifetime there. I've been to a lot of places, loved visiting, loved the sights. This little island, though, is one of few places in the world that truly connected with me. I keep making imaginary plans to head back this fall, this winter... anytime I can get myself onto a plane, really.
Abegweit, thank you for welcoming me. I will be back!