Day Two, Quebec City.
My morning plans involved wandering (and lots of it!), so bright and early I grabbed myself a cup of white hot cocoa ("Un petit chocolate chaud blanc, s'il vous plait") at Second Cup (addiction #2) with some form of scone-y thing and wandered down to Rue St.Jean. And then... then I was presented with a challenge: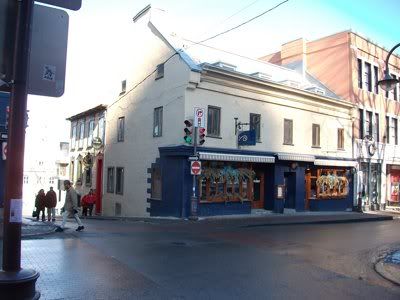 Le Hobbit Bistro.
Was I hobbit-y enough to eat "Second Breakfast" at the Hobbit? Apparently, if it's crepes with real maple syrup, I certainly was. Full beyond measure, it was down the streets and through the doors into Vieux Quebec, the older walled part of the city. Head over heels, I shopped (medieval-themed boutiques lined one street-- I stopped at a new top and belt), let myself be caught by surprise: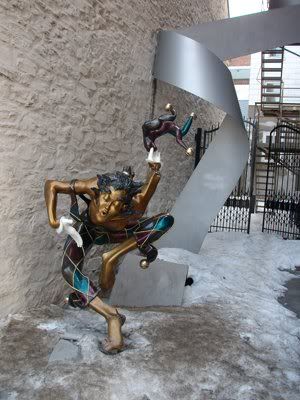 --random art down an alleyway
and wandered a real-life Hogsmeade of cobblestone streets, tiny shops, and buskers.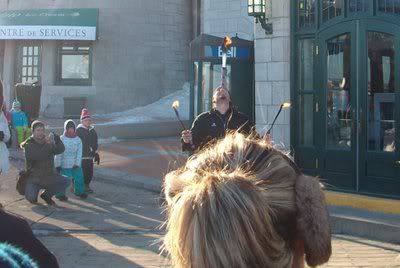 I love how the city in the winter has random outdoor ice rinks-- by one city wall entrance there was a hockey game starting, by another was a regular public rink (and, of course, I did grab my skates and paddled about on the public rink until my toes nearly froze off... spinning in a bulky winter coat, however, was a challenge!)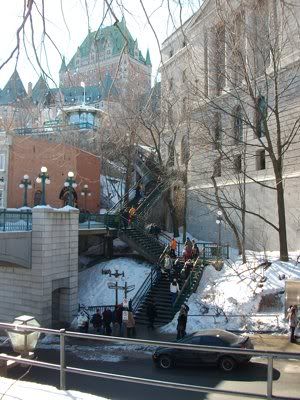 Up, up, up the narrow staircase to the Chateau Laurier and a park where I could see the frozen St. Laurence. I love seeing ice chunks floating in rivers-- it's still a novelty to me.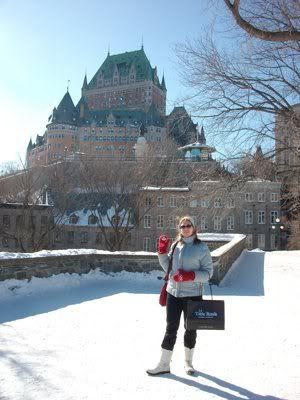 Beside the Chateau was a giant ice slide-- after seeing someone being carted away by an ambulance, I contented myself with just watching people fly down the steep hill. I'm adventurous, but not crazy!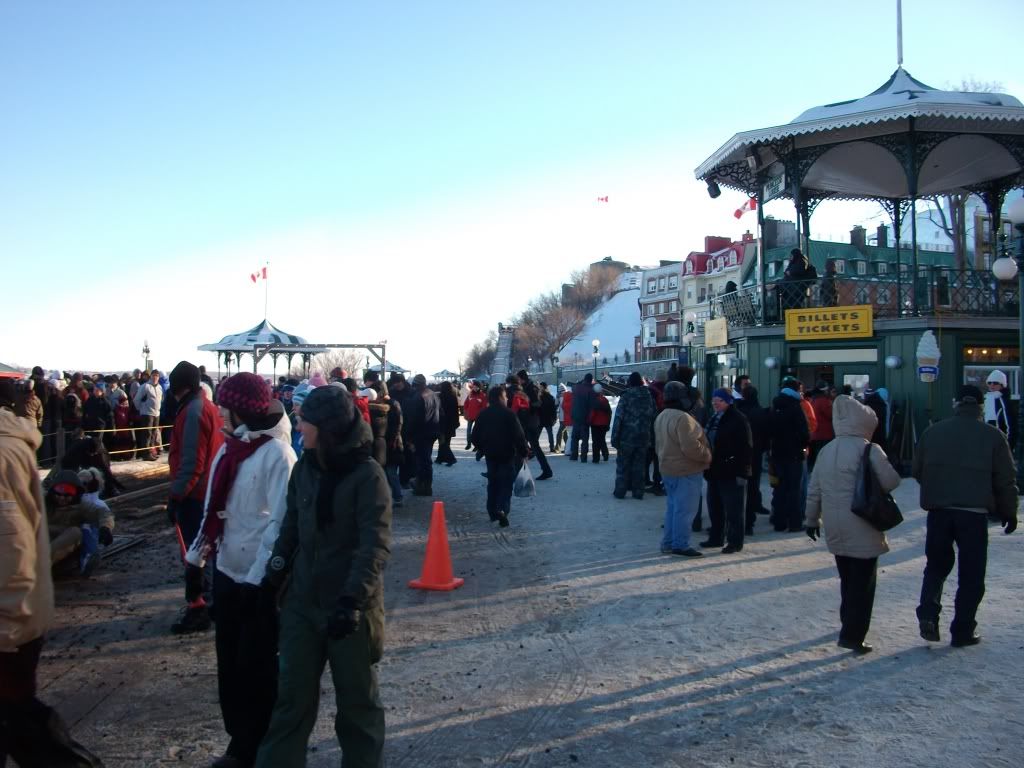 And then, back to the carnaval, where the craziness was really beginning, with the bain de niege, where truly insane people strip down to their skivies to "bathe in the snow." (note the political statements being made by some of these Quebecois students)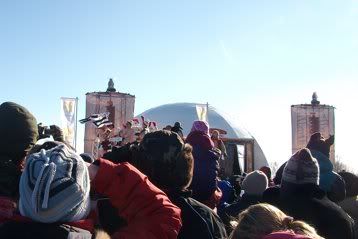 Another one (of many) tige sur la niege
and another beavertail while I watched the St. Hubert horse sled races, the giant group tubing slides, and drumcorps (one of which had me giggling as it played the "Imperial March"! I am SUCH a geek!) I've also recorded quite a bit of sound, but I'm still working on how to get that up on this blog. The energy is so incredibly contagious!
After dinner at a Lebanese restaurant (sorry, but I just couldn't stomach another Poutine! Good, but soooooo heavy! Falafel and other random goodness can be a little bit lighter,) it was back to the hotel to bulk up my clothes and wait for the arrival of Bonhomme in my hotel lobby!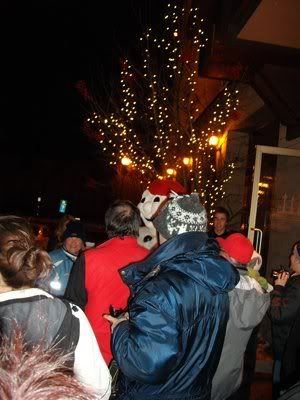 Followed by the night parade, which was a combo between a light parade and cirque de soleil. Thanks to my hotel's fantastic location along the parade grounds (meaning waiting in my hotel room until nearly the last minute) and my million layers of thinsulate and fleece, I was cozy and happy waiting through the parade (hint: wrap your scarf around your face. And heated shoe liners. The only cold parts of me were my eyes.) It was definitely worth the cold (even for an adult.)
During this part of the trip, I discovered that I love, love, LOVE tubing! As a child, I never had the chance to go tubing-- while we've always lived on the top of a hill, our bushes make it unsledable, and mom would never have allowed us to throw ourselves towards the street, anyway. So, it took until now for me to try tubing. The tubing hill was just right for me-- not too life-threatening, but still fast and fun.
(cute costume!)
So, I squeezed in a few more rides before heading back to the hotel and a hot shower.
Day three was a little hike to the Cathedral for Sunday mass (in French-- such a good little Catholic, aren't I? and the cathedral was stunning, as expected) and a last starry-eyed wander before boarding the train back to Montreal, then Ottawa. In Montreal, during my stopover, I hunted out a stand that served a
Smoked meat sandwich
(on recommendation from another coworker.) Except for the mustard-- now I know to ask for one without-- it was good... sort-of like a cross between corned beef and-- well, I'm not quite sure else. A last cup of White Hot Chocolate from Second cup (addict! ADDICT! I can order it in English and French. And I CAN'T FIND IT HERE!!!!!) and a quick stock-up on Aero bars and smarties and other Canadian candy bar goodness, and I was back on the train, speeding back to my airport hotel in Ottawa and an early flight home.
Adieu, Quebec. Je me souviens!